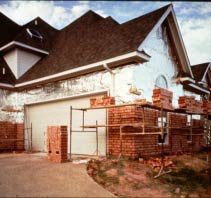 House Wrap
It is competitively priced with other house wraps on the market and is installed exactly the same way. In addition to accomplishing the benefits of house wraps as an air & moisture barrier, our house wrap has the "Radiant Barrier" aspect. This is an additional benefit to you, our customer.

Photos 1 & 2
Arctic Shield

®

is shown as house wrap just before outer surface is applied.
Also, you may be aware that if a home has radiant barrier installed, most HVAC application software has a "Radiant Barrier" factor that results in a 10% to 20% reduction in the tonnage air conditioning system requirement. This will save money on construction costs as well as reduce the utility bills for the end user. For maximum efficiency, the radiant barrier house wrap should be applied behind brick, allowing for a 3/4" air space.
Arctic Shield
®
For new or retrofit (industrial grade) house-wrap, roofing systems, radiant heat flooring, and OEMs when a stronger grade is needed. Available in 500 and 1,000 sq. ft. rolls or custom lengths.
Also, comes in perforated 4' widths.
Arctic Shield®brand radiant barrier is construction / industrial grade reflective insulation and is available in 500 and 1,000 Sq. Ft. Rolls, 4' widths.
Arctic Shield®has been designed to be used for new or retrofit (industrial grade) applications. It can be wrapped around a structure, just under the brick or outer material (photos 1 & 2). It can be placed over the rafters just before roofing materials are applied, or stapled to the rafters inside the attic. It can also be laid directly over mass insulation in the attic. It is also beneficial for radiant heat flooring, industrial, and OEMs when a stronger grade is needed.
Meets new ASTM E84 and E2599 fire code
Clean, Lightweight, Very Strong
Saves Money and Energy
Arctic Shield®also provides these important advantages:
Non-toxic/Non-carcinogenic
Easy to handle
Installation requires no special tools or clothing
Does not promote the growth of fungi or bacteria
Provides no nest support for rodent or insect pests
Meets fire and smoke safety requirements of most federal, state, and local building codes
Requires no maintenance
Product Specifications
Meets ASTM C1313 Standard Specifications for Sheet Radiant Barriers for Building Construction Applications 
Product Description

Two-sided reflecting metalized film with polyethylene woven reinforcement

Weight

29.5 lbs per 1000 sq ft roll

Tensile/Tear Strength

Length: 13.23 pounds force Width: 13.98 pounds force ASTM D2261

Pliability

70°F±5°F & 50±5% Relative Humidity – No Cracking or Delamination
ASTM C1313-05

Adhesive Performance

180°F±5°F & 50% Relative Humidity – No Bleeding or Delamination
ASTM C1313-05

Flame Spread & Smoke

Class A/ Class 1
0 Flame Spread, 5 Smoke Development ASTM Method E84-10

Resistance to Fungi

PASS – No Growth ASTM C1338-08

Permiability

6.29 Perms ASTM E96-05

Thermal Properties

EMISSIVITY: 0.05 REFLECTIVITY: 95% ASTM C1371-04a
Download our installation guide here
Arctic Shield Insulation Ltd.
McKenzie Town,
Calgary, AB
Tel: (587) 577-6833
Installation Services